The purpose of this guide to Neville Goddard is to provide you with all the information you could need in one easy-to-read, easy-to-understand, and clear focus on his teachings.
After reading his most famous books (listed below in this guide) and taking action on his techniques, Neville changed my life.
Neville is the inspiration behind the website you are on right now!
Below you will find an index that makes it easy to quickly find the information you are looking for.
The index lists in order the most popular topics people are interested in when learning about Neville Goddard.
Please read it all or skip to the information you desire most.
This guide with both educate and inspire you.
Content
Who is Neville Goddard?
Neville Goddard lectures.
Neville Goddard techniques.
The Law of Attraction and manifestation.
Your belief matches what you receive.
The power of the subconscious mind.
The best Neville Goddard quotes.
Neville Goddard Books.
Book recommendations by Neville.
Neville Goddard manifesting techniques
Law of Assumption.
The Law of Attraction.
What is an sp?
The meaning of SATS.
Mental diet.
Applying Neville Goddard's techniques.
Neville on Reddit.
Top Neville Goddard videos.
How did Neville Goddard die?
Who is Neville Goddard?
Neville Goddard, commonly referred to as Neville, is one of the greatest spiritual teachers of the 20th century.
On February 19, 1905, Neville was born in Saint Michael, Barbados, and passed on October 1, 1972, in West Hollywood, California.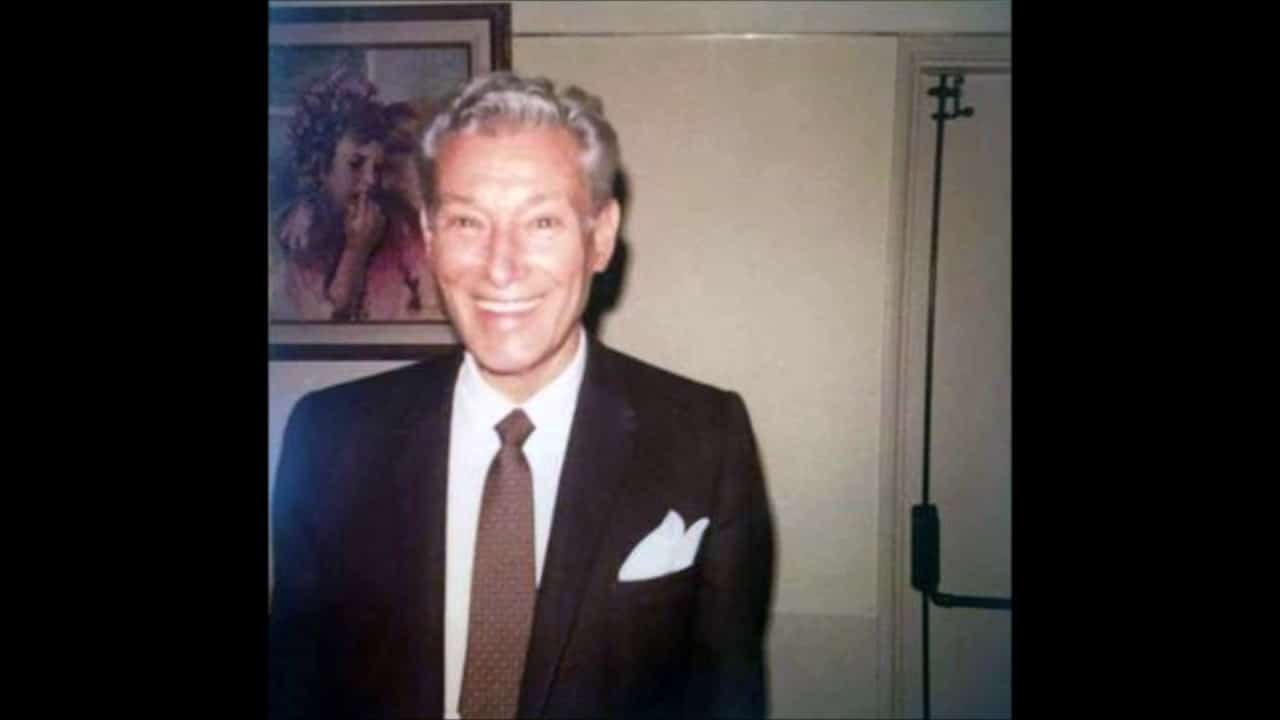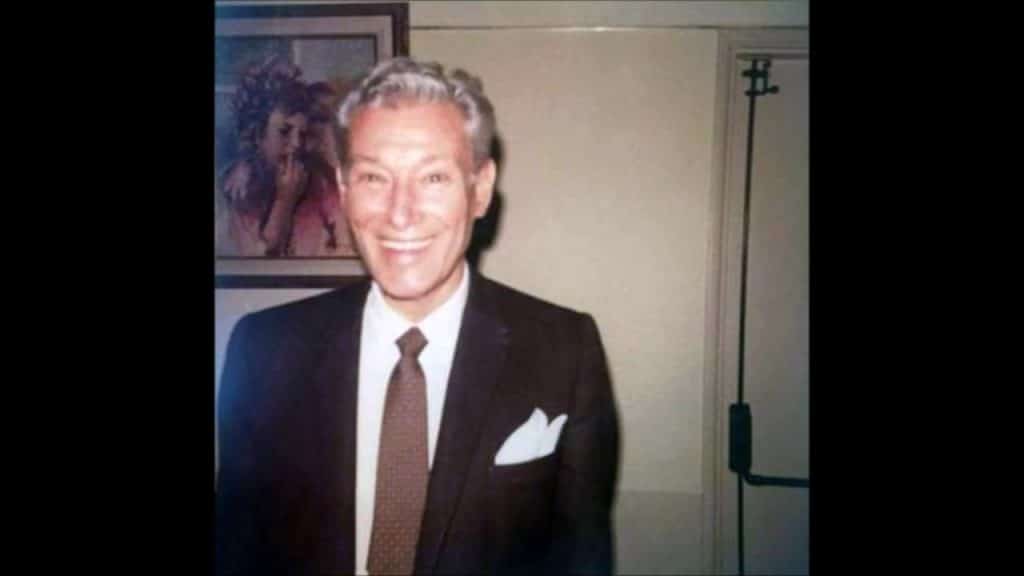 Neville was only 67 years of age when he died.
He had eight brothers and one sister.
One of his sons has partly carried on his name as Joseph Neville Goddard.
He guided his many followers to master their minds, thoughts, and feelings and create their reality.
Goddard's teachings are simple: everything you experience reflects your level of consciousness.
Although he often makes biblical references, Neville Goddard felt the Bible shouldn't simply be a historical resource about Jesus.
He was open-minded and more curious about the lessons behind the Bible, more so than subscribing to one religion.
His work was far more practical than it was religious.
Many of Neville's books contain stories from his students, offering real-life case studies on how to implement his teachings to create change in your life.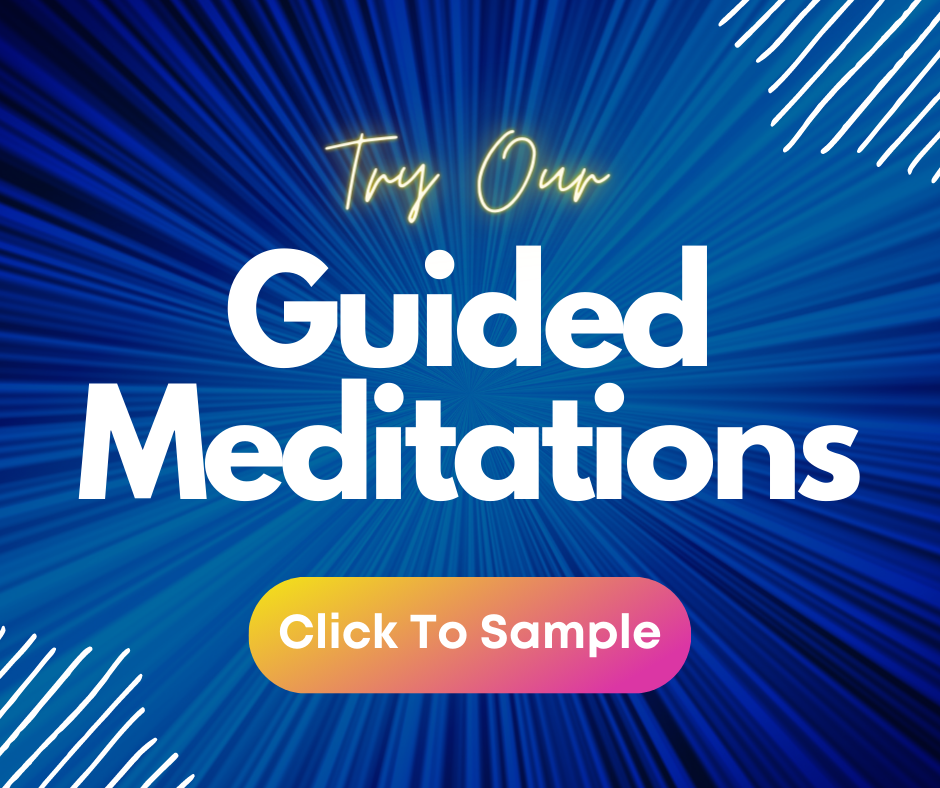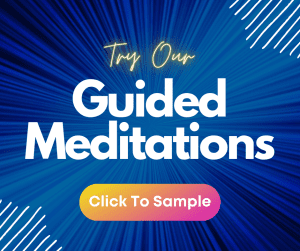 Dance Was a Way to Free Neville Goddard From His Work
In my research of Neville Goddard, I was fortunate enough to come upon this image!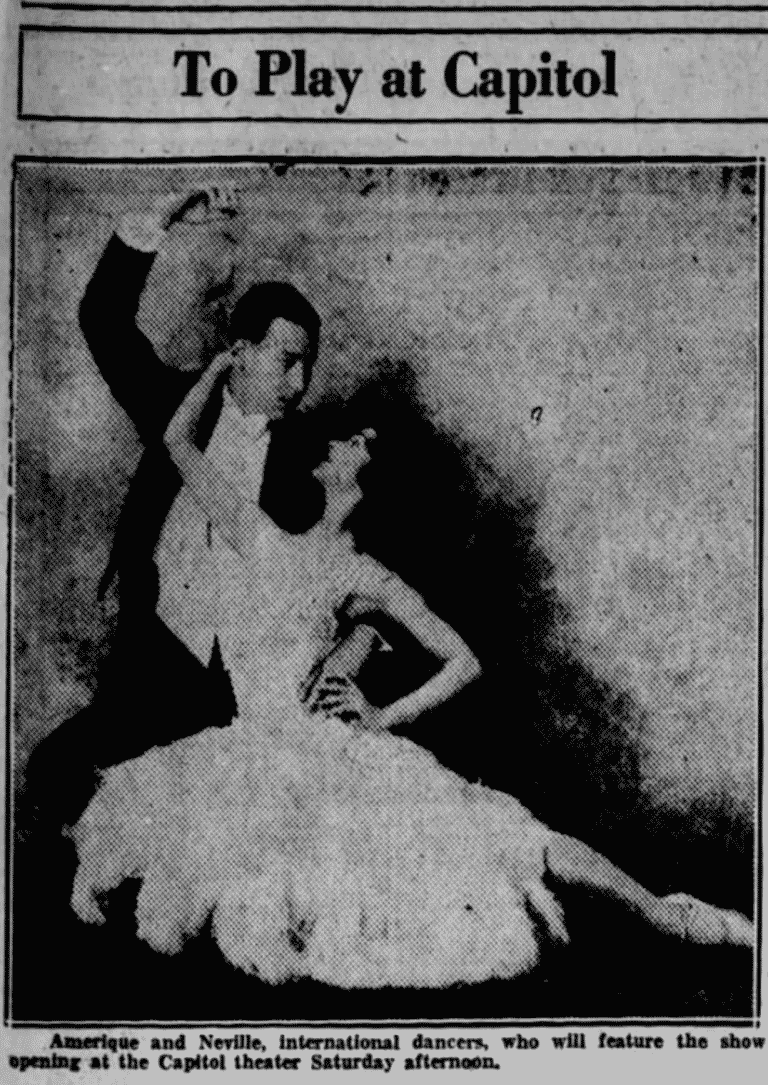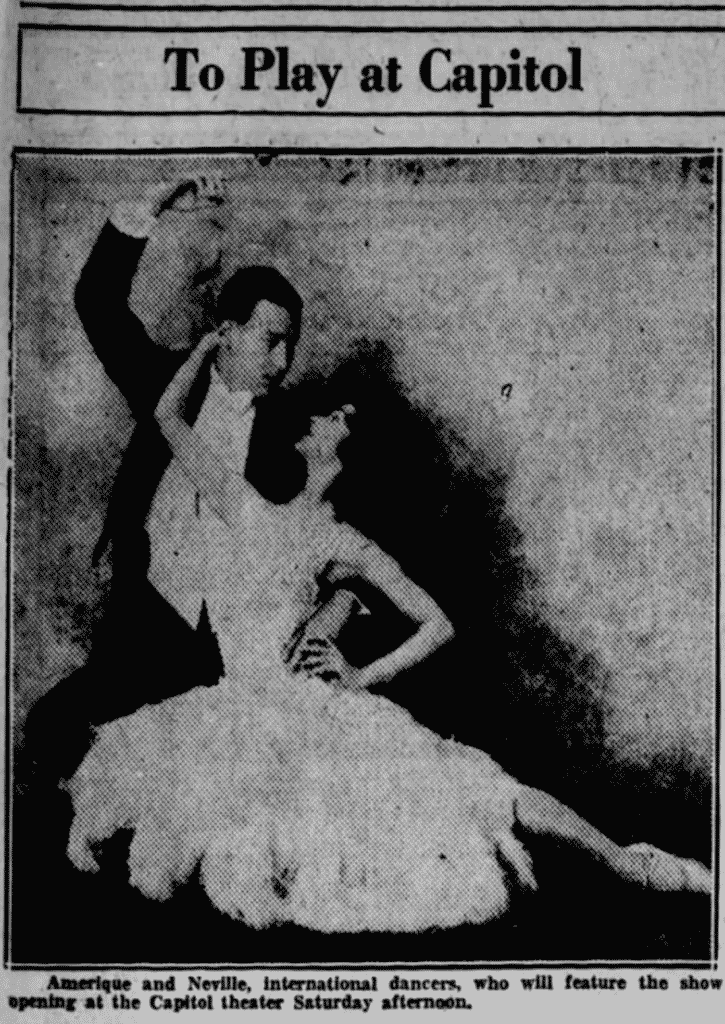 Neville Goddard was a dancer and apparently danced internationally, according to this news clip!
Even this ad highlights the level to which Neville took his dancing skills.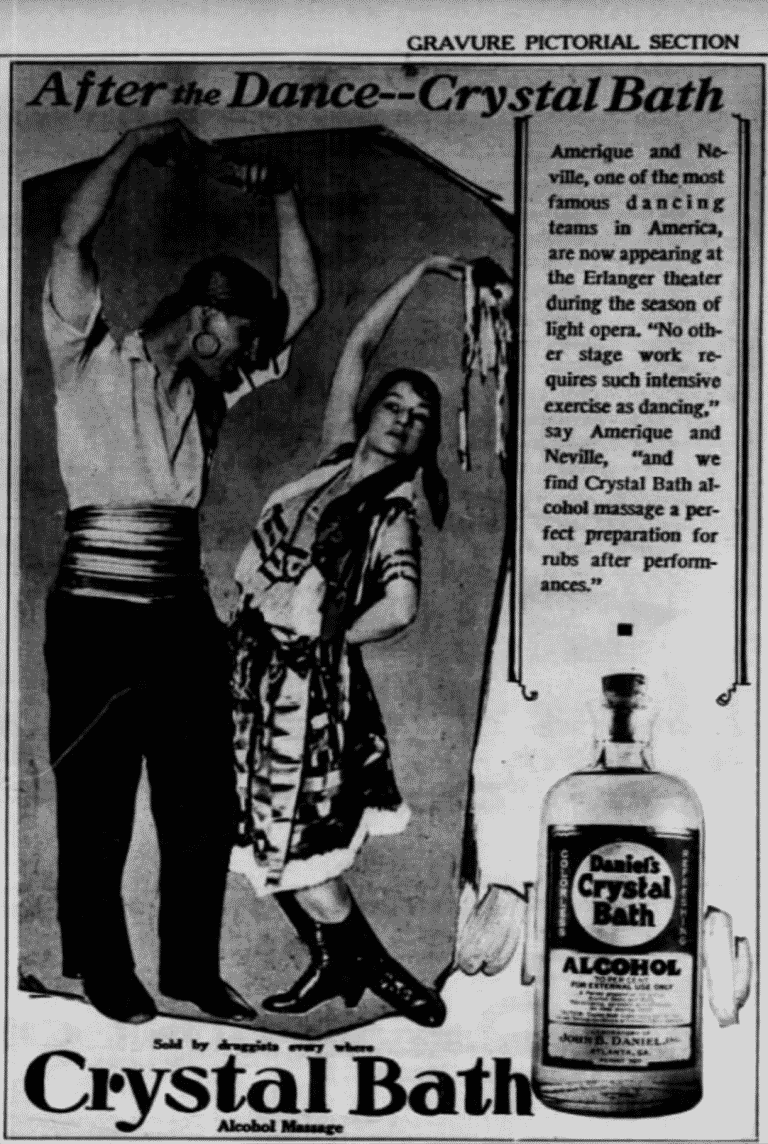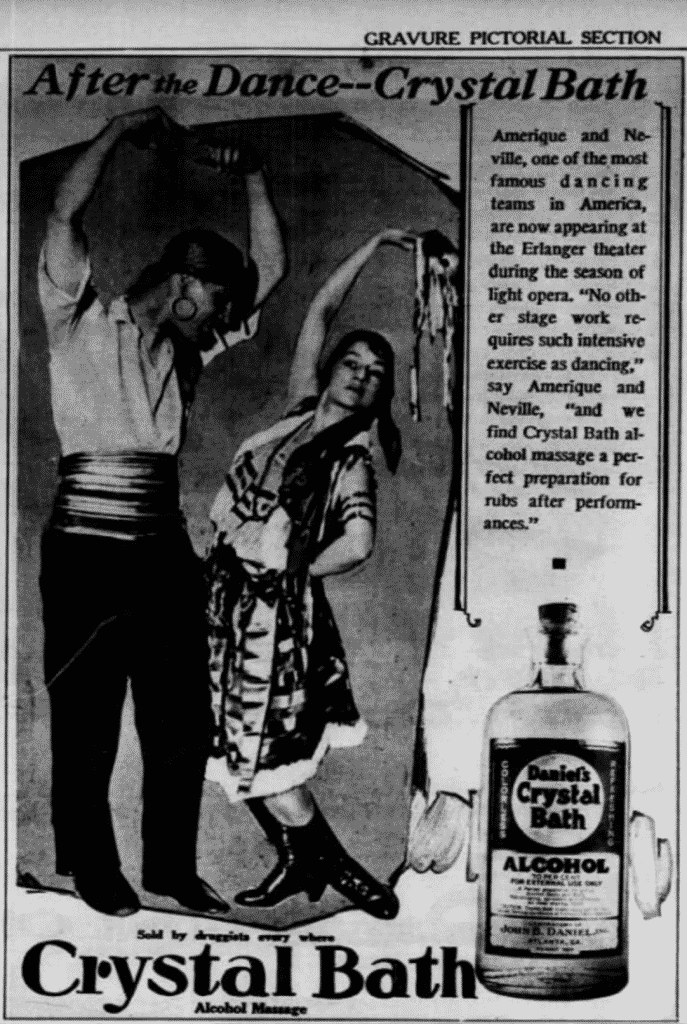 Neville Goddard Lectures
Neville moved from Barbados to the United States to study drama at seventeen.
In 1932 he gave up the theater to focus his attention on his studies in mysticism.
The earlier days of Neville Goddard sharing his spiritual journey took place at the town hall in New York City.
This is where he started his lectures and shared his views on religion.
Neville wasn't too sure if the men in the Bible ever lived or even if the events described ever occurred.
He spoke for free in front of reportedly thousands of people.
Neville's lectures focused on personal growth and spirituality, and he stated that many people left his lectures with increased productivity.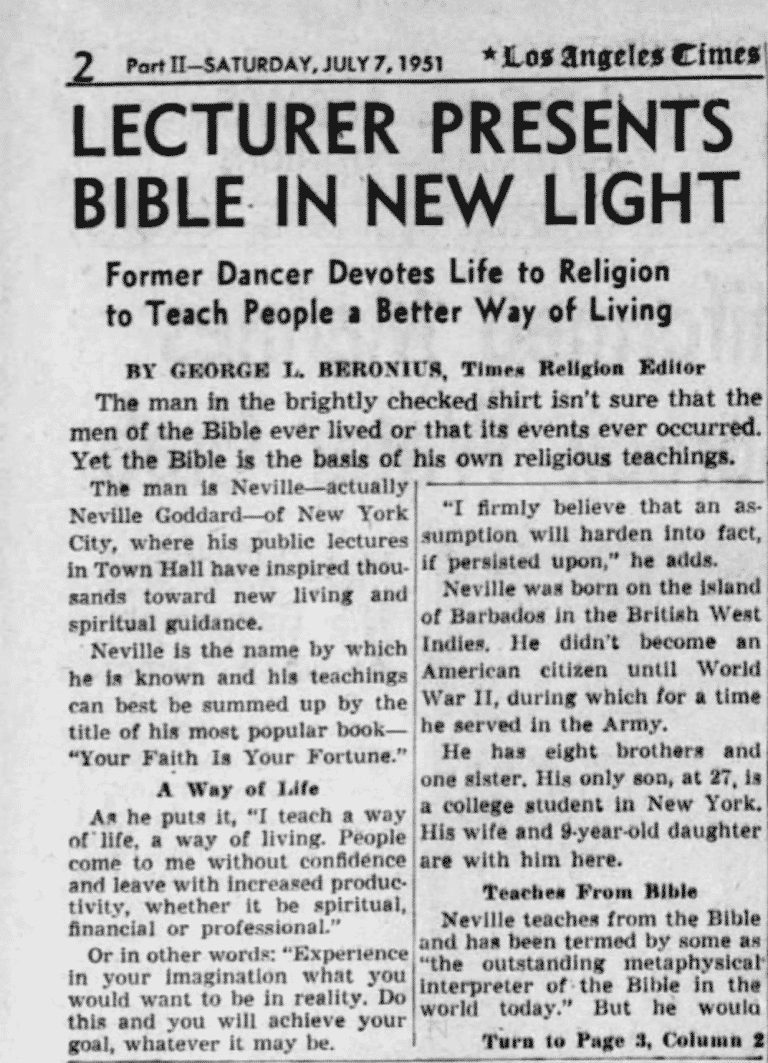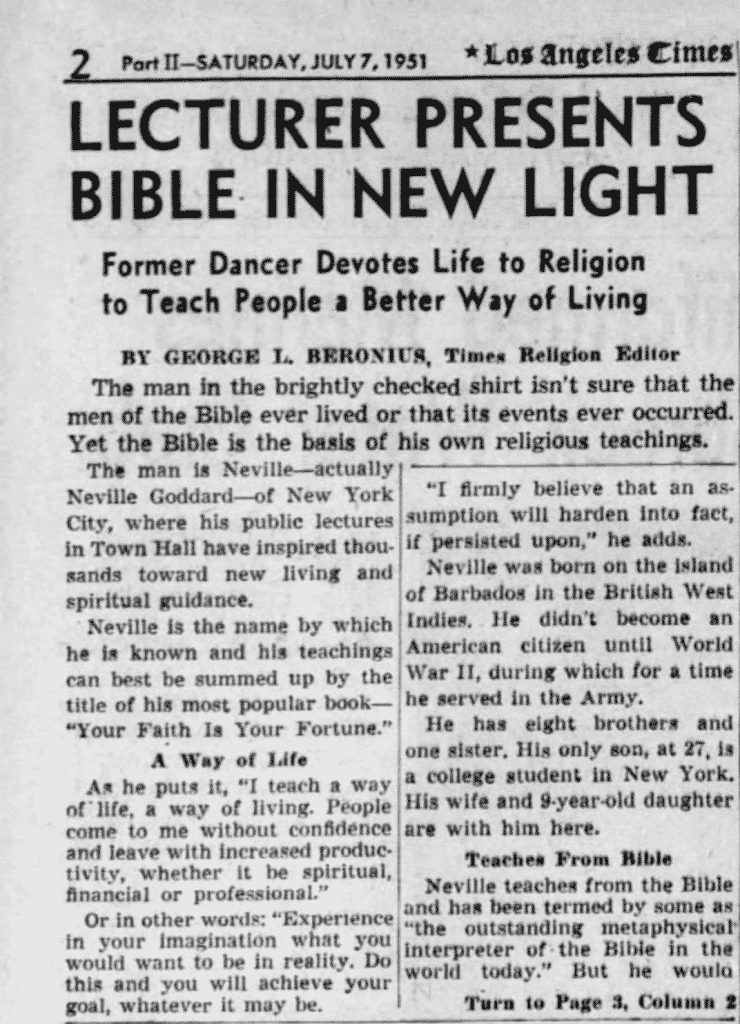 In the article above, Neville is quoted as stating, "I teach a way of life, a way of living" when asked about his lectures.
Here's another quote about manifesting from the above article.
"Experience in your imagination what you would want to be in reality. Do this and you will achive your goal, whatever it may be." – Neville Goddard
After traveling throughout the country, he eventually settled down in Los Angeles.
In the late 1950s, he gave a series of talks on television and regularly lectured to full-capacity audiences at the Wilshire Ebell Theater.
From the 1960s to the early '70s, Neville lectured in Los Angeles, New York, and San Francisco.
Like our content?
Watch our best videos!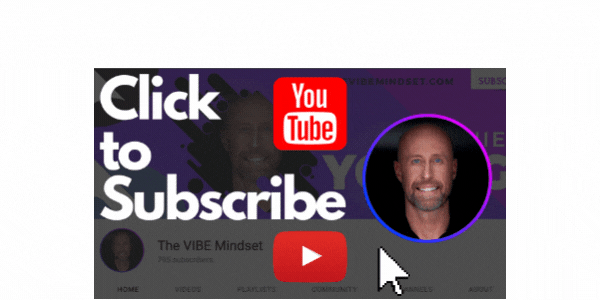 Neville Goddard's Techniques
Many thoughts and techniques are at the core of Neville's philosophy, but none are more powerful than the four most often referenced below.
Imagination creates reality.
Feeling is the secret.
Assume the feeling of your wish fulfilled.
Living in the end.
Revision technique.
Imagination creates reality
References to religion are cited in Neville's work, yet many believe he was more spiritual than religious.
Neville often paired imagination with references to God when he spoke of imagination.
"Your own wonderful human imagination is the actual creative power of God within you."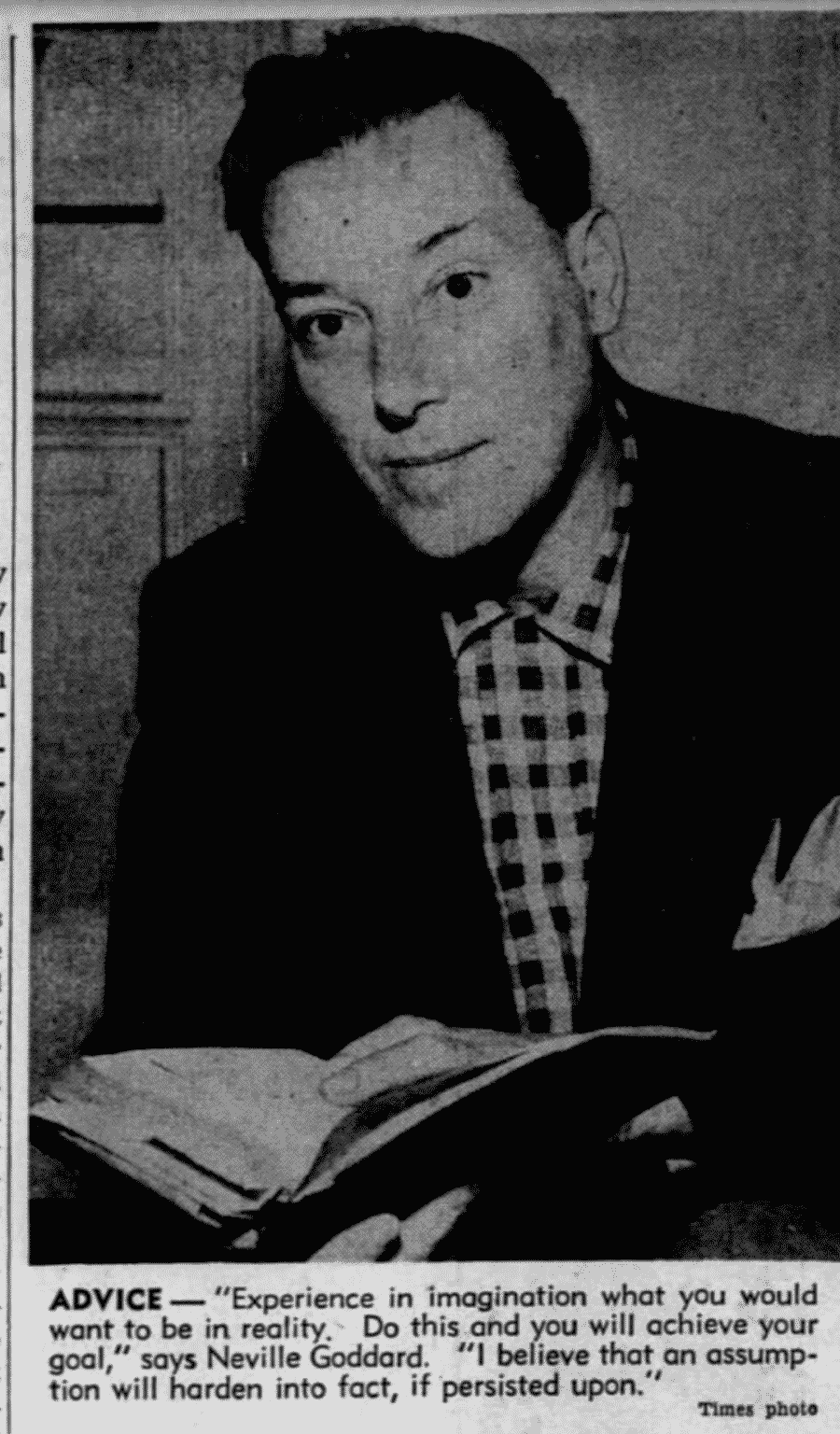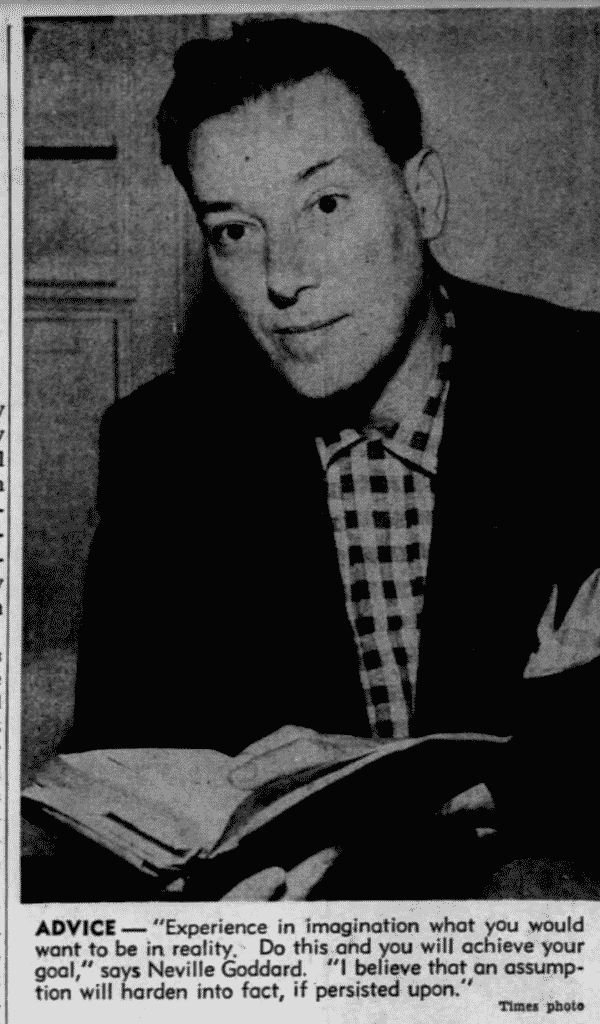 The human imagination is often a topic of discussion within his work, including the examples below.
"Your imagination is the power to save you from whatever circumstances you now find yourself in.
"Nothing is impossible to your imagination."
"If you can imagine something, you can achieve it."
Imagination isn't daydreaming to Neville, yet it is to imagine in detail as if you are living the actual event.
Activating as many senses while imagining is crucial to successfully implementing his imagination techniques.
He doesn't ask us to visualize; he asks us to bridge the gap between imagination and reality by getting so detailed our subconscious mind cannot tell the difference between the two.
When entering your imagination, perform the action, hear the words, touch the object, and smell the aroma.
Enter the dream as if you are there.
Make then, now, and make there, here.
Neville uses the analogy of planting a seed to represent imagination, while watering that seed means feeling as if the event has already happened.
Neville recommends imagining in detail, activating all 5 senses as often as it takes until it feels authentic to you.
He makes it a point to emphasize imagining right before falling asleep.
While the conscious mind sleeps, the subconscious mind manifests your desires.
Thought, belief, and imagination together all create your life.
One interesting point made by Neville is our imagination matches our beliefs.
To imagine something more significant than what exists, we must also believe it to be possible.
Our world even mirrors all that we believe to be true. Our consciousness creates our reality.
Neville states, "Nothing happens to you except that which originates in your own consciousness."
Feeling is The Secret
If you desire a new car, for example, don't just see a new car; use your imagination to drive that new car.
"Feel yourself seated behind the wheel of the car."
"Smell the newness of the interior."
"Feel yourself driving your new comfortable ride."
"Feel the happiness you would feel after accomplishing your dream."
When Neville spoke about feelings, emotions, and states, it wasn't like we hear in modern times.
Today, we are taught elevated emotions such as joy, bliss, and gratitude are the emotions and feelings we want to embody to manifest, yet Neville's work was different.
When Neville referred to feelings, he specifically meant to feel as if you are already living, as if your wish fulfilled.
This may involve some of the feelings listed above; however, it is more so the exact feelings you would have if you were living in your future.
For example, if you were in love with a specific person, what would it feel like to be next to them, cuddling them on the couch and laughing with them?
Feelings for Neville were particular to the desired event and not a generalized state of being.
The state of being he recommended is the state you would feel if you were in that imaginary moment right now.
Assume the Feeling of Your Wish Fulfilled
One of Neville's teachings pillars is to "Assume the feeling of your wish fulfilled."
Neville made this a cornerstone of his teachings.
His work focused on thinking and imagining in the present moment, much like modern-day philosopher Eckhart Tolle.
Your state is reflected in the outer world, so you must believe it is already within your grasp.
Living in the End
The concept of "living in the end" is a pillar of Neville's teachings.
He states that many people make the mistake of imagining what they want instead of imagining from it.
For example, instead of imagining how you want your next relationship to be, he asks you to visualize it as if you're in it right now.
Where will you both go for a walk together today? What will you see? What will you hear from them? How will their hand feel grasping yours?
This is imagining from, and not of, or about.
This concept is critical to your success if you want to manifest using his teachings.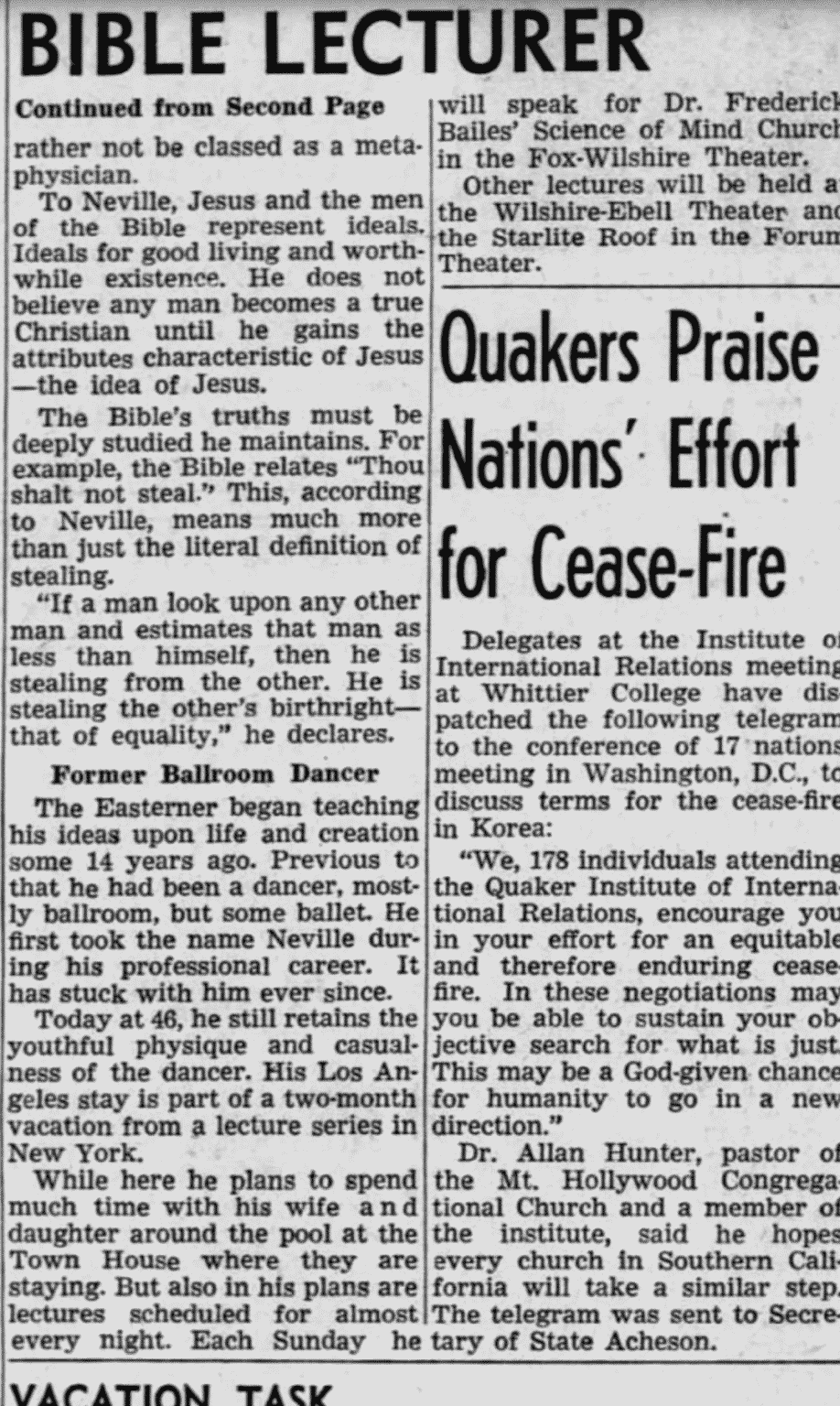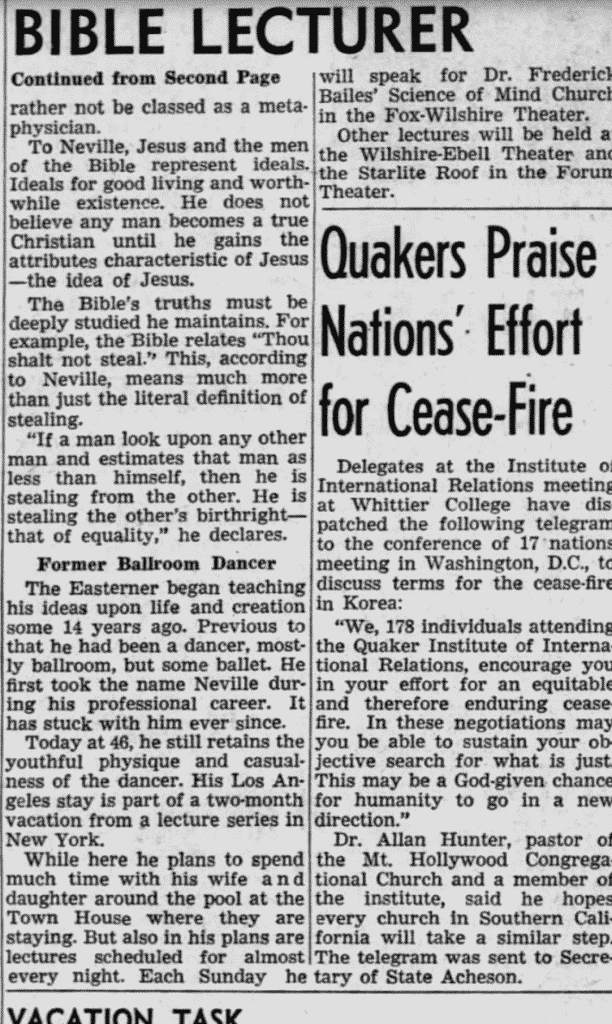 The Revision Technique
Revision is a technique that works because it reframes your story about the past from the higher perspective of your chosen desire.
The key is to overcome the emotions associated with a past experience.
This is accomplished by simply reimagining a past event the exact way you wish it to be.
Refuse to replay what happened.
Instead, reimagine your past to let go of your emotional attachments to it.
The Law of Attraction and Manifestation
Although he died in 1972, he's become a hot topic on Instagram, Reddit forums, and amongst manifestation gurus.
His teachings have recently gained popularity due to the rise of interest in manifestation and The Law of Attraction.
Neville Goddard was an expert in taking complicated subject matter and breaking it down into easy-to-understand and actionable concepts.
Many of the new LOA and manifestation gurus cite Neville's work and use its principles as a focus of their work.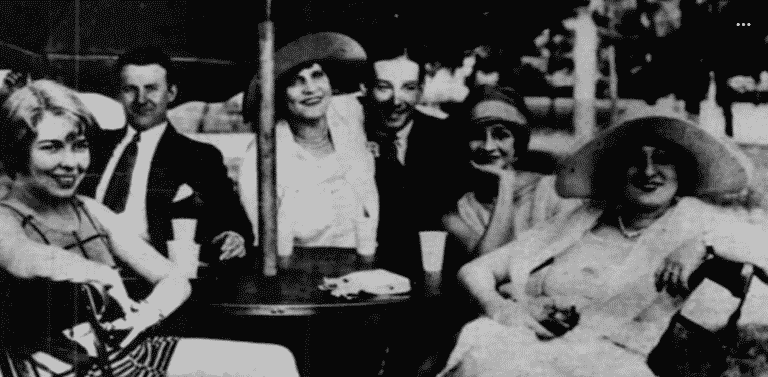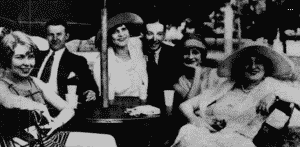 Your Belief Matches What You Receive
You always receive that which you believe.
You are or have that which you want.
"Faith is the substance of things hoped for, the evidence of things not seen."
Neville reminds us that it's not how hard you pray or ask for that which you desire, nor is it for how long.
It would be best if you believed it to be true first and foremost.
The Power of the Subconscious Mind
The subconscious mind became a hot topic when Neville Goddard was on this earth.
Dr. Joseph Murphy and his book "The Power of the Subconscious Mind" was published around the time of Neville's work, and Neville used its simple teaching's quite often in his work.
"The word "if" should be removed from your vocabulary."
If's are often followed by something negative such as doubt.
"If" puts everything in the past or future tense.
It creates a condition that must be met before an experience, feeling, or event occurs.
The Best Neville Goddard Quotes
You can discover an endless number of impressive Neville Goddard quotes about manifesting.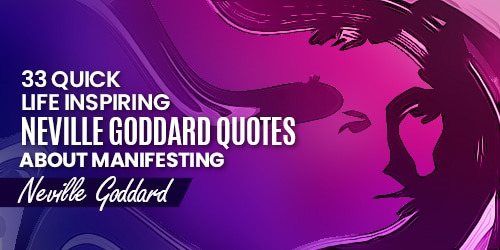 This is just a short list of some of our personal favorites.
"Fear of loss brings loss into your world."
"Feeling abundant brings riches into your life."
"As within, so without."
"The circumstances of your life reflect what you have been saying."
"Once a thought is accepted and charged with feeling, the creative power within proceeds to externalize it."
"Imagination is the very gateway of reality."
"You are already that which you wish to be, and your refusal to believe this is the only reason you do to see it."
"Assume the feeling of the wish fulfilled."
"You can satisfy yourself by appropriating the feeling that you are what you want to be. And this assumption though false, that is, although reason and the senses deny it, if persisted in will harden into fact."
"Signs follow; they never precede."
"Only when one is willing to give up his present limitations and identity can he become that which he desires to be."
Which was your favorite?
Imagine if you were to take one of these quotes and embody the message for just today.
What changes could it ignite for you today?
Neville Goddard Books
The first Neville Goddard book you should read is "Feeling is the Secret."
Start here because this lesson is at the core of Neville's manifestation techniques.
Below are the books that Neville Goddard wrote. Some of the materials listed below are transcripts from lectures he conducted.
Neville's book "Feeling is The Secret" is arguably the most popular.
"At Your Command." 1939
"Your Faith is Your Fortune." 1941
"Feeling is the Secret." 1944
"Prayer: The Art of Believing." 1945
"The Power of Awareness." 1952
"Awakened Imagination." 1954
"The Creative Use of Imagination." 1952
"Seedtime and Harvest." 1956
"He Dreams in Me."
"I know my father." 1960
"Law and the Promise." 1961
"He Breaks the Shell." 1964
"Resurrection." 1966
YouTube is a great resource for listening to all of Neville's teachings.
His voice and storytelling ability are powerful and captivating.
Book Recommendations by Neville
One of the most exciting documents I can across included book recommendations by Neville Goddard himself.
Here are the books he stated he wishes to have if ever left on a deserted island:
The Bible – (His #1 pick)
Charles Fillmore's Metaphysical Dictionary of Bible Names
William Blake's work
Nicoll's Commentaries
These were the books Neville would recommend when asked for recommendations at his lectures.
Neville Goddard Manifesting Techniques
Manifesting was at the heart of the Neville Goddard techniques.
Neville Goddard had 4 main techniques when it came to manifestation.
1. Imagination is awareness
Neville believed our human imagination is our most incredible tool to create our reality.
That which we consistently imagine within our mind has no choice but to become our reality eventually.
2. Impress upon the subconscious mind
Neville's techniques centered around planting seeds into your subconscious mind when your mind was near a state akin to sleep. (SATS)
You're then to assume that your desire is already yours, and in time, it will soon harden into fact.
3. Faith in the unseen
This is one of Neville Goddard's best techniques for manifesting because it addresses the #1 reason many people struggle to manifest.
We often lack faith and belief in our desires because we cannot see them in our physical world.
Start believing in what you can create in your imagination, as it is destined to present itself in the physical world soon.
4. Everyone is you pushed out
To Neville Goddard, success in your outer world begins with your inner world.
One Neville Goddard quote is, "The same awareness that flows through me is the same awareness that flows through you."
Law of Assumption
One topic very often discussed on YouTube and social media is Neville's Law of Assumption.
It is one of the cornerstones of Neville's teachings.
It simply states that your life corrects your assumptions, implying you are always manifesting.
To change anything in your life, you must change the beliefs and assumptions you hold about it.
The physical manifestation of your desires reflects your experience, so long as you maintain the feeling of the wish fulfilled.
Most people who desire to change their life make the mistake of not imagining deeply or long enough, they let the 3D world and what they see dictate their reality instead of their imagination.
Below are three videos on The Law of Assumption.
This is a short 1:11 video.
Neville Goddard Quotes
"There isn't a thing that you now see in the world, but that it was once only imagined."
"That image preceded the objective fact. so the objective reality is purely produced through imagining."
"The suits you wear, the dresses you wear, the chairs on which you are seated, the building that now houses you."
"Everything was only imagined, and then it became an objective reality."
"And we think the objective state is its reality."
"That's not so at all."
"That which is the imaginative image is its reality."
"Destroy the objective fact; I can reproduce it from the imaginative image."
"It is all within us."
"Our own wonderful human imagination is the God of scripture."
Below you will find a longer video spoken by the man himself, Neville Goddard. It is 46:07 long.
The video below is quickly becoming our most popular video on our YouTube channel. 
Law of Assumption Affirmations
These are 5 of the best affirmations that align with The Law of Assumption.
Pair these affirmations in a state akin to sleep (SATs) for optimal effects!
"I possess that which I desire."
"I'm the creator of my reality."
"My wish has been fulfilled."
"I have everything I desire."
"I'm living my best life."
These simple statements should be made while in a state of gratitude.
Gratitude is a receiving emotion elicited from the receipt of your desires.
The Law of Attraction
Neville is one of the most influential Law of Attraction teachers; although it wasn't a term or law he coined, he stated the principles.
In later years, many believe Rhonda Byrne took Neville's teachings and that of others and created The Law of Attraction from them.
In truth, Neville's work was more closely aligned with The Law of Vibration than explicitly with The Law of Attraction.
This law states that everything vibrates, and when your vibration aligns with that which you desire, you experience it.
What is an SP?
This question is one of the most common when it comes to the work of Neville Goddard.
I researched the term years ago when I first encountered his work.
SP = Specific person
When it comes to relationships, we often desire a specific person.
Neville's work uses this abbreviation often.
Often when an "sp" is mentioned in forums and online, it represents bringing someone who left it back into one's life.
The Meaning of SATS
SAT's is another abbreviation you will discover while on your journey of enlightenment to the work of Neville Goddard.
SATS = State akin to sleep
Modern-day conversations on meditation very closely resemble the goal SATS had on Neville Goddard's teachings.
Neville realized to manifest the life you want, you must impress your desires upon your subconscious mind.
The gateway into your subconscious mind opens up when you enter a Theta brain wave state.
Theta brain wave state is experienced twice a day unless accessed through meditation.
Make this a habit by performing this once before falling asleep and once upon awakening.
Neville Goddard knew these were two powerful daily opportunities to install the programs of the life you desire.
Neville Goddard's Mental Diet
A mental diet is refusing to allow any negative thoughts to persist in your mind.
Negative thoughts will always enter your mind and attempt to distract you from focusing on your goals.
Neville Goddard's mental diet was essentially viewing negative thoughts as a less healthy meal, and ridding yourself of those thoughts or thinking positive thoughts was like eating a healthy meal.
Applying Neville Goddard's Techniques
Knowledge isn't power; it's simply potential power.
Let's share some of the specific techniques Neville's work recommends so you can put this guide into practice.
Here are the techniques we will discuss.
Thinking from the end.
Scripting.
Revisioning.
Thinking from the end
Imagine reading a book backward. You started with the end in mind to help create the storyline.
This resembles the teachings of Neville Goddard.
Neville recommended immersing yourself in the feeling you anticipate you would feel once your desires are met.
Your starting point to manifest your desires begins by feeling the expected emotions right now.
Let's say you want to be in a relationship with an sp (sp is the shorthand for a specific person in Neville's work).
This is the key to thinking from the end and the core message behind the book "Feeling is the Secret."
Takeaway: Imagine what it would feel like to be with that person. Imagine in detail to the point where you almost feel like it is happening!
Scripting
This is different from modern-day journaling, as you write down your desires in the past tense as if they have already happened.
The writing style is vivid to the point that anyone reading your words would feel as if they were there with you when your desires met.
This isn't writing down your goals and desires.
This is writing down a minute-by-minute account of an imaginary event that has yet to occur.
Takeaway: Write a detailed story about an event you wish to occur; in such detail, artists could use it to paint the scene as if they were painting from inside your mind.
Revisioning
This is the act of reimagining the parts of your day that didn't go well as if they had.
Think of it as a second chance for a "redo" of sorts.
The key is to reimagine it and move on without feelings of sadness, disappointment, or regret.
Think of how you wish your day had gone instead of how it did.
Top Neville Goddard Videos
There is a ton of content about Neville Goddard on YouTube.
Here are four of my favorite Neville Goddard channels for you to get an endless source of additional videos, techniques, and exercises.
The Vibe Mindset
YouAreCreators2
Neville and The Law
Josiah Brandt
Remember to subscribe to our channel in the #1 slot above because we are admittedly biased. LOL
How Did Neville Goddard Die?
Neville Goddard passed away and ventured onto his next journey on October 1st, 1972, at his home in Los Angeles, California.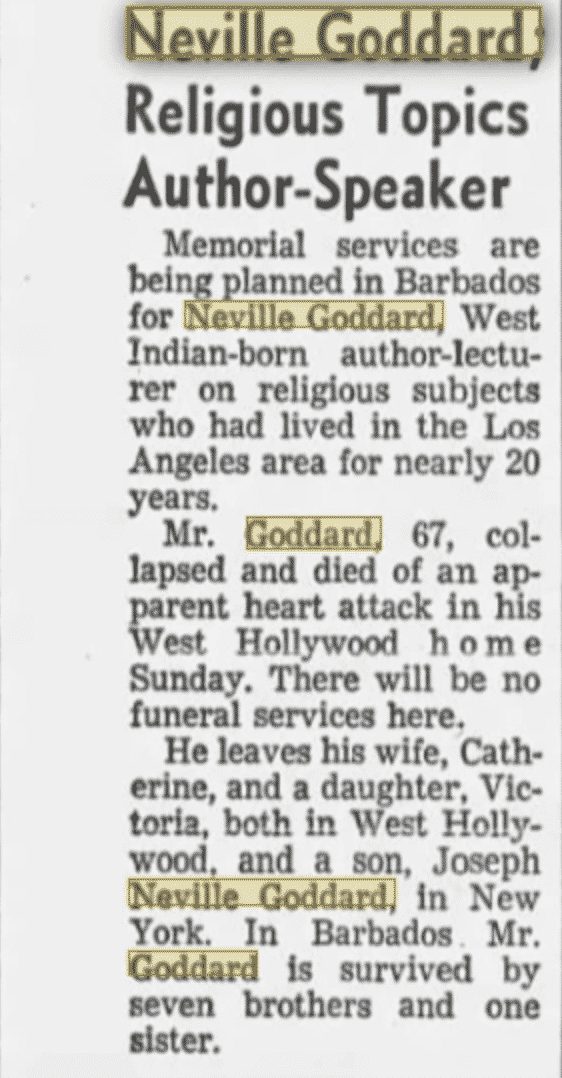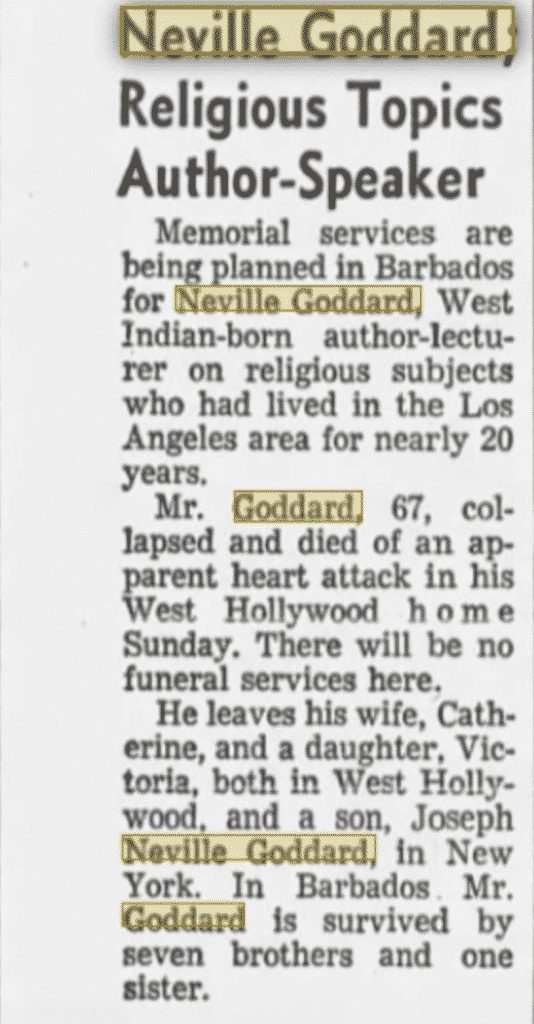 Before his passing, he stated he was ready to move forward.
Here are some quotes by Neville Goddard in the time near his passing:
"I know my time is short. I have finished the work I have been sent to do, and I am now eager to depart."
"I know I will not appear in this three-dimensional world again, for The Promise has been fulfilled in me."
"As for where I go, I will know you there as I have known you here, for we are all brothers, infinitely in love with each other."
He was rumored to have been found in his chair already gone.
There are two main stories about Neville Goddard's death.
he suffered a heart attack
died from a brain aneurysm.
His chauffeur, Frank Carter, stated he was found with his ears and nose bleeding and that his cause of death was an aneurysm.
Mr. Carter recalled dreaming about Neville dying the night before he passed.
His physical state has changed his spirit and energy, yet his legacy is very much alive.
Joseph Neville Goddard
The son of Neville appears to have died in 1974, two years following the death of his follower.
Researching his family members proves to be quite tricky.
Many Reddit posts have made assumptions about his daughter Victoria, yet she appears challenging to find.
Her whereabouts and whether she is dead or alive remain unknown.
What To Do Next
The work is Neville Goddard is very much alive!
His work is timeless, and its lessons are as powerful today as they were during his time on earth and many years prior.
Always remember knowledge is NOT power; it is potential power.
Put the lessons you have learned today into action else; all this article did was entertain you.
If you want help applying Neville Goddard's teaching, send us an email or click here to gain access to our community to learn how!
Subscribe to our YouTube Channel at: https://www.youtube.com/c/TheVIBEMindset?sub_confirmation=1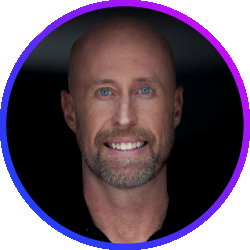 Latest posts by Dr. Jay Cavanaugh
(see all)