It's crazy how you can work so hard to be so successful according to the standards of income and possessions yet see people with far less than you who seem far happier.
Why is that?
There are quite a few possible answers to this question but consider this.
Start by defining what has success meant to you in the last five, ten, or twenty-plus years.
Did you memorize the wrong definition?
If you're rich and feel poor inside, this article was written for you!
I'm Rich But I Feel Poor
I don't know about you but when I was young I always looked up to the rich guy down the street.
The one who appeared to have it all!
A gorgeous wife, plenty of loud and fast cars, and children who played with their endless line of toys.
In my teenage male mind I came to the conclusion that money buys happiness and a lack of it buys misery.
A simple conclusion based on my perspective, insecurities, and parental beliefs surrounding money.
Little did I know the beliefs, stories, and conversations in my mind would drive me towards a relentless pursuit of success.
Did we buy into a lie?
It amazes me how many conclusions we come to when we're young that stick with us our entire life yet have little foundational truth.
Many of us seem to be living our lives filled with beliefs we've created for ourselves based on inaccuracies and misinterpretations.
In our search for certainty and security, it seems we create sets of expectations and conditions for our lives.
"I'll be happy once I make a million dollars."
"I'll feel successful once I buy my first Ferrari."
"Once I build this company to 100 million dollars I will have made it!"
"Money buys happiness."
There is nothing wrong with choosing to be successful and focusing on making money btw.
I think where we make the mistake is the expectations we have surrounding the emotions we anticipate we will experience once that success has been achieved.
My first Ferrari was exciting until I realized people weren't into me, they were into my car and what I could do to boost their social media presence.
Not only that but I feel the brakes were half as good as the ones on my $7,000 Mini Cooper.
For a species to be at the top of the food chain I sometimes wonder if the T-Rex should have been the one that won out.
I know my 6-year-old self would have loved that.
How to Feel Rich When You Are Rich
We've talked about the problem now it's time to talk about the solution.
"I have found peace by shining a light on my beliefs surrounding money."
I've explored where they came from and accepted them for what they were given my level of cognitive abilities at the time.
Simple statements my parents had made and some family members surrounding us influenced me far greater than I had ever imagined.
With clarity comes empowerment.
This newfound clarity inspired the desire to redefine success.
What if you shifted your definition of success?
What if it's listening to your wife to the point where she finally feels you heard her?
Maybe it's not dictating to your kids how to live their life and enjoying the look in their eyes as they look at you finally feeling accepted?
Perhaps it's offering a gentle smile to someone at a gas station who appreciated it more than you'll ever know?
It appears we have all made things too complicated.
If you're rich but feel poor, give this little gem a try.
The "Sunrise Shower"
I'm up early and plan on making an effort to watch the sunrise.
I call it a "Sunrise Shower."
The way I see it is if you can't enjoy the simple things in life then the big things will never bring you joy.
Will you give it a shot?
Google "What time is the sunrise today/tomorrow" and make it a priority.
Make an appointment with the sun.
Go outside, or sit by a window a few minutes ahead of time and let the anticipation build.
You'll experience the same feelings you did the week before Christmas.
You can't help but feel alive and excited!
When the glow starts your excitement will start to build even more.
Once that first ray pops out you'll immediately feel a jolt of excitement and gratitude.
You'll be fascinated by how something so simple could feel so good.
Smile, take in a deep breath and feel energized.
Get excited to start a new day fresh with a new way of thinking and appreciating the little things.
Let me know how the best day you've had in a while turns out for you.
I'll look forward to that email!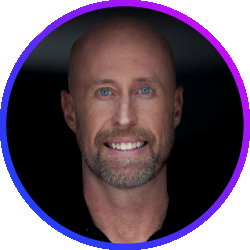 Latest posts by Dr. Jay Cavanaugh
(see all)